How An AC Tune-Up Will Keep Your Cooling Equipment Working Optimally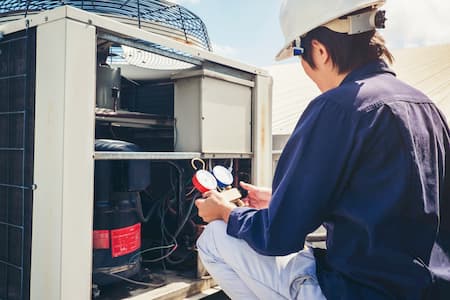 32 Below Inc offers professional AC tune-up services to help Pearland homeowners maximize the efficiency and service life of their air conditioning systems. As Pearland AC company, we feel it's our job to impress upon you the difference AC tune-up can make in the performance of your air conditioning units. That's why we emphasize AC tune-ups as a way to keep your cooling system working flawlessly. Whip your Pearland AC system into shape with 32 Below Inc's expert AC tune-up services and see your air conditioning give its best performance!
Increased Energy Efficiency
Regular tune-up services keep your HVAC system functioning at maximum efficiency and keep your equipment from overworking itself. By investing in AC tune-up, you're preventing your AC unit from expelling more energy than is necessary and helping your home reduce its impact on the environment.
Lower Electricity Costs
By increasing your energy efficiency with AC tune-up, you're also helping to cut your monthly electric bill down. Over time, you can see a significant amount of savings by reducing these energy costs and keeping your AC running efficiently.
Peak Usage Prep
It's wise to schedule AC tune-up prior to the start of summer as it gets your system ready for heavier use and can alert techs of any necessary AC repair work before the Texas heat sets in. If it's been a while since your AC system has seen some extra attention, then you might want to reach out to our team to ensure that your AC is ready to keep your home cool all summer.
Increased Lifespan Of AC System
With routine AC tune-up services, you can help extend the longevity of your air conditioning system and prevent the need for a premature replacement. You can also cut down on the number of repairs your AC unit needs over time, which means more money in your pocket. Help your AC system reach its maximum lifespan when you opt to invest in AC tune-ups as needed.
Improved Air Quality
Your air conditioning is largely responsible for the quality of the air you and your family breathe. Over time, this quality can begin to wane as dirt, dust, and other debris gather in your AC ducts and on parts of your AC unit. To prevent this decline in the quality of your indoor air supply, you should periodically invest in professional AC tune-ups as they clear out debris from your AC unit and allow for clean, fresh air to flow freely in your home.
Some Tune-Up Services We Offer
Drain Line Clearing
Wax and Shine Your Outdoor Condenser
Condensor Flushing
Warranty Work
R-410-A Refrigerant Refill
R-22 Refrigerant Refill
And More!
---